Before going any further, I have to confess a little history. With the dawn of PC gaming (1990-ish), I found myself rather addicted to a certain golf simulation from EA, called 'PGA Tour Golf'. It ran on my old 286 with VGA (in 16-color mode, if I remember right!!) graphics, it was colourful and gloriously playable. It was multi-player too, or at least 'hot seat' multi-player, in that you took turns with the guy sat next to you.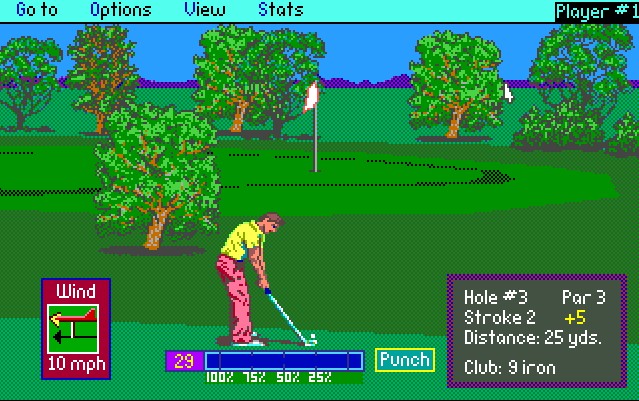 Fast forward three years and (forgive the sprinkling of relevant links in this para!) I made my name with a golf game called 'Pitch and Putt' for the Psion Series 3 - this became Fairway and 'Series 5 Golf' in various evolutions and guises over the next five years. And at every stage, my model for how things should look and feel (within the limits of the Psion's processor and the OPL language) was my memory of PGA Tour Golf. My golf games got me started on Mapper and other projects, including the 3-Lib shareware library, and I quickly went full-time and gave up my day job. And the closest thing I have to a day job, 17 years later, is writing for All About Symbian and for Ovi Gaming. Which I guess takes me full circle!

Series 5 Golf...

... and Fairway, adapted for the Nokia Communicator, circa 2002
With that confession out of the way, I hope I've established that I know what makes for a good golf game. Because Tiger Woods PGA Tour 09 for N-Gage is a good game - it just feels incomplete in the modern online age. At the heart of both the Java version (available for the best part of a year now) and this native Symbian version is the same mature golfing engine that's behind the mainstream desktop versions, which means that the raw, addictive mix of power, wind, spin, slopes and ball lie (etc.) is there to keep things just as playable as that 1990's game that I adored so much.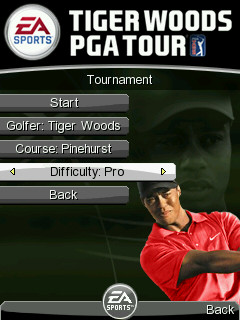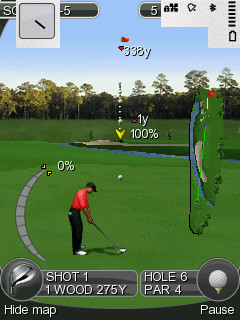 NB. Sorry about the screen corruption on the right. Trying to screen grab a game while it's in the foreground on a fast action 'loop' proved to be a tricky process 8-)
My worry for the official N-Gage version of the title was that EA would just take the 700K Java game and tack on a few N-Gage screens and options. The Java game's playable, you see, but it's never smooth or slick and there are few luxury trappings. The good news is that this is a native Symbian port, developed by Gamelion and weighs in at 6MB, almost ten times larger. But for this, you get far better performance in terms of course animations, higher resolution scenery and a digital music soundtrack.
The bad news is that the bits that go to make a good N-Gage title, i.e. access back to the N-Gage client and online multiplayer mode, are conspicuous by their absence. The other N-Gage golf title, Pro Series Golf, reviewed here, was definitely not as mature in terms of the core golfing engine but saved itself with working online multiplayer. So how highly I score Tiger Woods PGA Tour 09 is going to depend on how essential multiplayer action is.
Well, it's obviously a factor, but I'd argue that the core golfing game here is good enough that you'll still enjoy pitting your wits against the course, against the elements and against a batch of computer opponents. And you do earn N-Gage Arena points pickups, so there's some interaction going on.
But back to the game itself. The game modes, unsurprisingly, are 'Play now', 'Tournament' and 'Practice'. This last is a bit redundant and, don't worry, the tournament mode is only one round, not four, and so takes about half an hour of real time to play through. Importantly, there are three difficulty settings, 'Amateur', 'Pro' and 'Legend', with the only difference being in the severity of the wind - this simple approach seems over-crude at first, but does work in practice and you'll have to be good at estimating wind 'break' on 'Legend' if you're to land balls on the green.
For each hole played, there's a helicopter 3D 'fly by' (a feature of PGA Tour Golf since the very first version) - this provides the first real evidence of this being a native Symbian application, and superbly optimised at that - with no graphics acceleration hardware (as on the iPhone or original N95) Tiger Woods 09 on N-Gage manages a respectable 15 frames per second or so on its fly bys, with holes showing 3D features such as bunkers and slopes and with token trees to add atmosphere.
Look too closely and you can spot that the photorealistic horizon doesn't really change much (at least in Fairway, I had a full 360 degree horizon to play against!) and that the terrain surrounding each hole is fixed (e.g. textured grass or sea), with the hole and its topography simply layered on top. This approach has the obvious advantage that the 3D maths needed for real time animation (after hitting the ball, the camera follows the ball) is significantly simplified and, to be honest, the overall impression is very positive and as realistic as one could hope for on a non-graphics-accelerated mobile phone.
Shots are taken by aiming and selecting clubs using the d-pad, then pressing and holding in the d-pad to swing back - release it to start swinging forwards again. It's a simplified mechanic (no possibility of 'timing' the ball badly) when compared to older versions of the game, but on the smaller screen it works well. Yellow arrows show the suggested power of each shot, but you've got to also allow for wind direction and speed, for ball lie and for differences in elevation between where you are and the green, so there's plenty to keep you on your toes.
After taking a shot, I loved the way spin can be imparted retrospectively, by pressing and holding one of the d-pad directions. Yes, it's unrealistic, but if it means compensating for overhitting my approach shot by giving the ball a truck load of back spin then I'm all for it.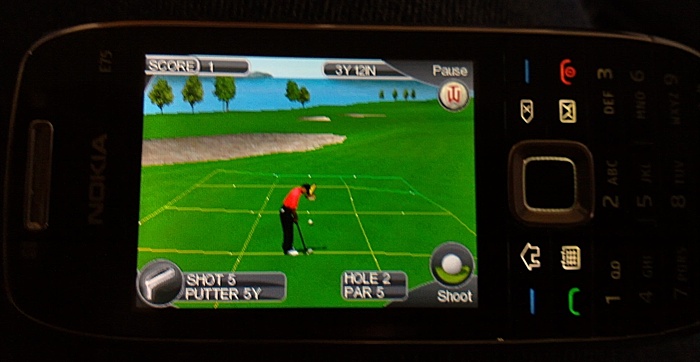 As with most golf games (including my own), it's putting which presents the most problems for a game developer. Here the gradient is shown clearly with a coloured (and animated) grid, but the power/swing bar lets the title down here by not being as predictable as when swinging a bigger club. And when you have to really whack the ball to get it up a gradient, there sometimes isn't enough 'oomph' in the putter to make it to the hole.
If you do need hints on lowering your scores, there's a decent Help system built-in (thankfully). There's also a gimmicky-but-cool 'Create golfer' module, in which you can tweak your on-screen character's colour scheme - being able to animate such a character is made possibly because of the real-time-rendered nature of the graphics engine (unlike my Fairway, which had pre-animated sprites!).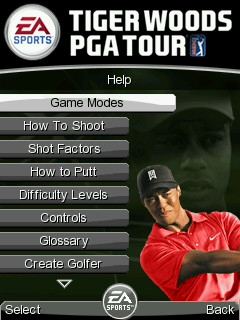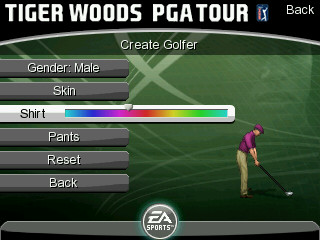 Sound effects are utterly minimal - just the noise of ball hitting ground or falling in the cup, plus a whoosh when striking. A few crowd 'Oohs' and applause would have been nice (hey, I had these in Fairway!), as would a few spectators scattered around the course, to liven things up visually and add atmosphere. As it stands, the only clue that you're not on your own on the course is the scoreboard that pops up after each hole to show your tournament standing.
(review continues after main screenshot gallery)
---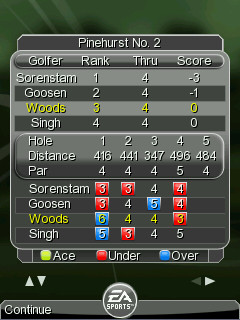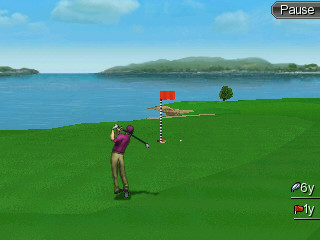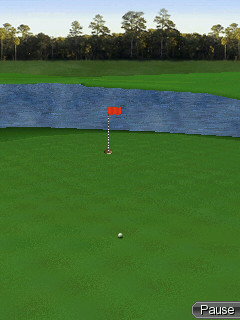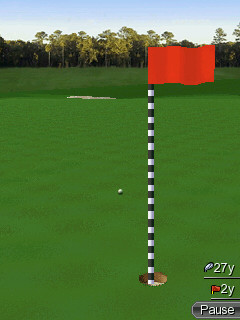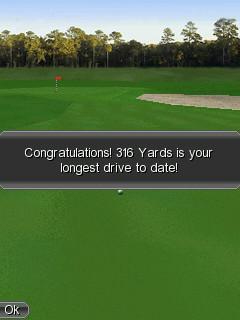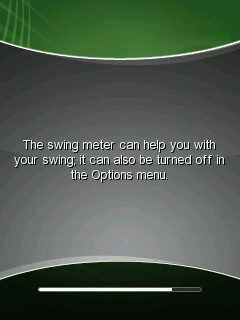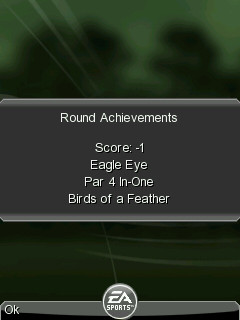 ---
And, fun as it is to play against virtual players, given that you can't actually see them in action, it would have been terrific here to be able to pull off the same trick as Pro Series Golf and do an Internet/N-Gage-hosted multiplayer game against a real world friend. As mentioned at the start of this review, this is the one area where Tiger Woods PGA Tour 09 falls down rather badly.
It's pretty clear to me that Gamelion, under instruction from EA, were tasked with producing a great-to-play Symbian version of the existing Tiger Woods PGA Tour game from the code base that's common to all versions across the various platforms. They might even have taken the framework for the Java version and used that as the basis. And they succeeded in this aim, producing something that's fast, fluid and (on the hole) fun. HOWEVER, someone forgot to tell the developers that one of the central tenets of the N-Gage platform is interactivity with the client and with other N-Gage users.
Yes, it's true that most other N-Gage titles (disappointingly) also fail utterly in the online multiplayer stakes. But that's no excuse. Golf titles are TAILOR made for online multiplayer because they're naturally turn-based and there will be no issues with a second or so of latency here and there. As I say, disappointing, especially when Pro Series Golf has already done this and done it well.
One other niggle is that there's no specific 'Save game' facility. Exit the game and you have to start your round all over again. It's true that, this being a well crafted Symbian native application, Tiger Woods 09 behaves impeccably when paused or switched to the background, so you can leave a game going and simply pick it up as and when, without having to worrying about it running down your phone's battery. But I'd still much rather have had a 'Save game' function, or at least auto-saving, to preserve game state even though I might want to play a different N-Gage title or power off my phone.
In short, a mixed bag. It's a good golfing experience, but with no multiplayer the excitement you'll ultimately get is all rather restricted. Overall, Pro Series Golf just pips the Tiger to the pin, I reckon...
Steve Litchfield, Ovi Gaming, 22 October 2009
no offence steve but i think you need to stick to reviewing devices b/c tiger woods is worst game ever, Prp series golf without online playis still 10x better
The first review available in the OVI store says that it's ruined on the N97 due to half the screen being taken up by a virtual controller. Did you try it on any 5th Edition devices Steve?

I do love a good addictive golf game, but I'd like a full screen one on my N97 preferably.
This is probably an ok golf game. My problem is I recently bought the same game on my (now sold)iphone 3gs and I just can't help myself comparing them. Had the n-gage version been cheaper.... maybe. But it's not. And the iphone version really puts this to shame. Not only the obvious things like graphics and sound. But they really put the touch screen to good use and swinging is just so much more fun than simply timing 2 clicks.