And it was all going so well for N-Gage, a little bit of momentum, some surprisingly good games and then Nokia go and cancel it. Okay I thought, at least it bows out with Mega Monsters and Tiger Woods PGA Tour 09 - strong titles... No. There's one more title. Powerboat Challenge.
You want to know why N-Gage failed? This is it in a nutshell.
I never thought it was possible to find a game that was poorer than the 99p 'effort' of Mastertronic's ZX Spectrum title "Speedboat Assassins." I was wrong. Welcome to the world of championship powerboat racing. Okay, so these are boats on a river, but they could just as easily be cars on a motorway, or bikes on a dirt track. The fundamental need for speed, smooth graphics and easy controls should be the same all over.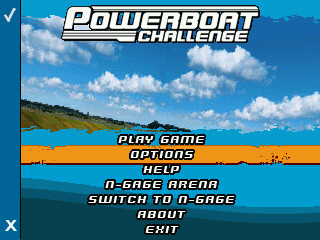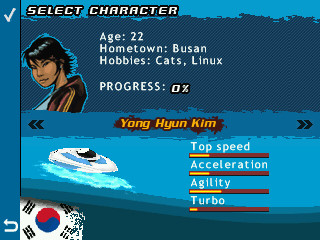 By saying these are boats, does that excuse the incredibly poor responsiveness of the keys and the moving vehicle? Does it give lie to the rather poor graphics in the environment? And should it cover up the simple fact that Powerboat Challenge is not fun?
Of course not. It's natural that a boat should be different to a car. It should be a bit slower to turn, it should slip a little bit more, it should react to choppy water at speed. But there comes a point where the developers should have turned to each other and gone "the gameplay experience here is rubbish" and started again.
The (relatively) good news is that if you keep on playing the game and upgrade your boat with a better engine and other modifications, the game becomes a little bit more playable. Which is a stupid way of doing it in my opinion. How many people will play the demo and go "I'll buy this, because it's sure to get better and more responsive if I keep playing."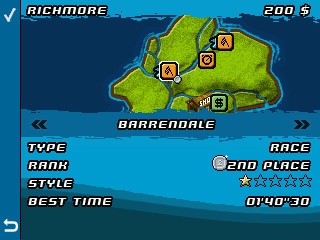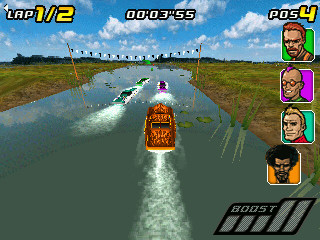 So the game itself... It's your typical racer format of racing round a circuit, and building up funds through placing and winning in races. The more funds, the better the upgrades you can buy. You have four characters to choose from, and to get a "complete" in the game, each of the four characters must have finished all the races. That's a lot of boating to get through.
While each level is essentially a four way race, there is one other twist to the challenge, and that's the addition of slalom buoys. You need to head round the indicated side of buoys in the middle of the river to keep racing. Miss three and you'll be disqualified immediately. This narrows the course you have to follow and forces you to start swaying across the river – which just makes the sluggish handling even more noticeable. Yes it might be like a real powerboat, but in my experience (err... which amount to about twenty five minutes on a Royal Navy rescue launch) the controls are sluggish, the boat takes forever to respond to your input and you have to think so far ahead that it makes most of the first few trips round each circuit an exercise in memory rather than fun.
There is an advantage to going through the buoys correctly; it fills up your turbo meter and when that's full you'll get a short burst of speed which you can use to get closer to your opponent. In my experience, you'll still need to do a bit of pushing and shoving to actually get past them. A clean overtake is not that simple.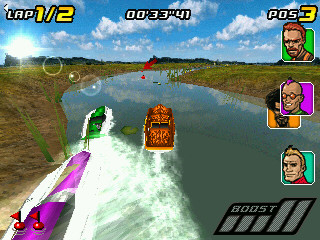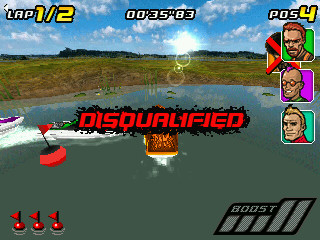 So is there anything good about Powerboat Challenge? Actually, there is – the alternative control method, which uses the phone's accelerometer to steer your boat by rotating the phone like a steering wheel, is a nice distraction and works well when you hook up a suitable phone to your TV with a 'TV out' cable. It doesn't work so well when playing solely on the device. Just as in the key-enabled control system, it's assumed you have the throttle floored at all times.
There is online 'play' after a fashion. Once you've completed a circuit, you can upload your time to the N-Gage Arena and in return get the racing profile of other N-Gage Arena players so that you can race against their shadow. It's nice and at least it's more substantial than a simple high score table but so much more could be done and hasn't.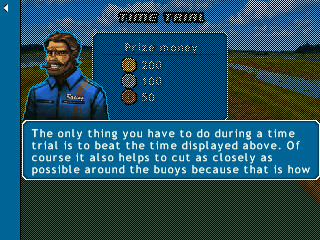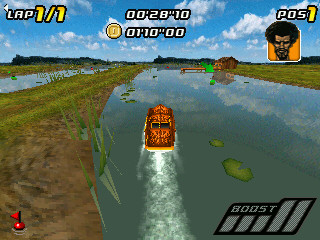 That's the general feeling with Powerboat Challenge. It's nice and it has had a little bit more effort put into it... but not that much more. This is above the minimum of what you'd expect but not by much. It still feels cheap. The graphics are there or thereabouts, the look of the water is aided by a mirror effect, the boats have more than enough key frames so they tilt nicely and the (lack of) speed is conveyed well.
It's also nice that Powerboat Challenge has some nods towards longevity in both the replaying with characters and also the additional power-ups with which you can equip your boats; but these come at the cost of frustration to the casual user, who is likely to be scared off by a poorly thought out difficulty curve. There's little to recommend here unless you are an arcade masochist, to be honest – playing Powerboat Challenge is rather like winning a lottery ticket for the Titanic.
-- Ewan Spence