Ducati Moto
Ducati Moto looks to be a regular racing game. And it is, in every sense of the world. And that's not a good thing, as Ewan discovers...
Version Reviewed: 2.2.7
Score: 61
These are the games that define a gaming system. Not the top line games that gather all the press coverage, but the B-List games that keep people playing the system and make up a significant portion of the bottom line due to their volume.
Unfortunately, the next gen N-Gage platform has not been blessed with the greatest of back-up titles and Ducati Moto is not going to change that. This is a motorbike racing game which manages to hit every single cliché of an arcade racing game while staking not one claim to any new ground.
Let's look at the game mechanics first and start with the speed of your bike. During my very first game, with the initial rider and bike (which you'd expect to be just average) I roared off into the lead, leaving the other bikes pretty much standing still. Every corner bar one I managed to steer around simply hy hitting left and right while holding down the accelerate. The one corner I had trouble on saw me crash and tumble off the bike, essentially starting my at zero mph again. I crashed here on each of the three laps. Yet I still won the race by a country mile.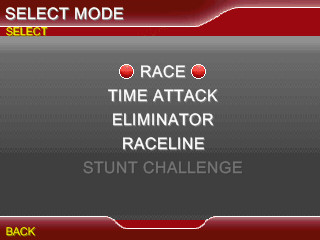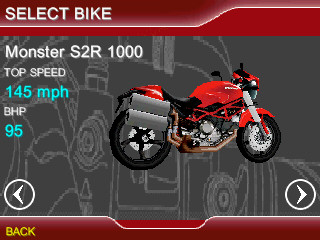 Forget how it handles, the graphics and the ambience, if there's nothing here to challenge myself in the gameplay why would I keep on playing? Ducati Moto fails in one simple respect. It's a rubbish game.
And that's annoying, because the graphics are pretty much there for a mobile title. They're not at X-Box or PSP level, but they're comparable with the likes of the Nintendo DS. But they do glitch. The frame rate is kept high by reducing the draw distance, which means that sometimes hills and scenery will pop up as you are close to them, not from when you could theoretically see them – heading over a bridge, rather than a river underneath, you can see the mountain range texture repeated to the bottom of the screen rather than a river – which is a schoolboy texture-mapping error and really should have been caught.
Oh, and those bridges? I'm sure someone in Nokia tailored this to me, as the first race track is on the shores of Loch Lomond in Scotland, an area I know well. And, err, I don't recognise any of these roads or villages.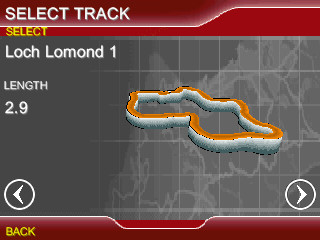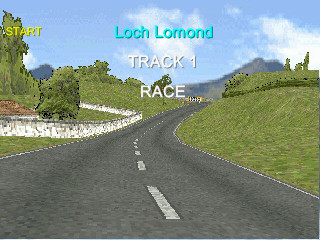 There's no finesse in the controls, which given that the design of the game is very much an arcade representation, does not come as much of a surprise. It takes a fair bit of design to get a good representation of analogue on a digital keypad – it is possible on the N-Gage, but unfortunately not here. There also seems little correlation between how far the bike is leaned over and how fast you turn.
Finally, the road itself is actually little more than a tunnel. You can't cut corners by going over the grass, you'll hit an invisible wall and go over the handlebars on the bike. You don't actually turn on the road, you just move away from a wall that's coming closer. A good driving game needs to hide this simple fact – Ducati Moto fails there as well. Heck, you can't even back up your bike.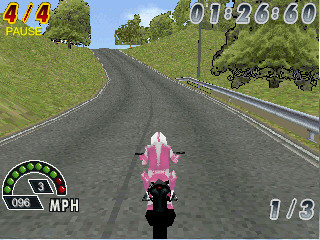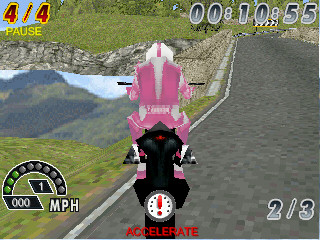 These fundamental problems mean that there's little desire to get into the game. The career mode, available when you buy the game, allows you to choose a bike rider and manage their money from winnings and side bets with other riders, to repair the bike and buy upgrades after each race, and maybe buy a completely new bike. Couple this with different racing modes, from regular races and time trials to eliminator races ( the last placed bike at the end of each lap is eliminated, till a victor is found) and you have the elements which are expected in a modern racer. It's just that the sum is actually a lot less than all its parts.
Ducati Moto is a cliched arcade game that I think has been rushed through quality control. The texturing needs a little bit more work to prevent glitches showing through and some optimisation may help the pop-up problems. But, mainly, someone should have played this and realised that it's far too easy – there's making sure a game can be finished with some learning and input, and then there's making a game more like a pre-made movie where you just press the buttons like Pavlov's Dog, secure in the knowledge you'll reach the end. Unfortunately, Ducati Moto is clearly the latter.
-- Ewan Spence, Sept 2009.
Review Discussion
Unregistered
"It's a rubbish game"

and it gets a 61??? booq
if its a rubbish game it would get maximum a 40 not a pass for sure.
Unregistered
Just tried to select "N-Gage Games - Recommended" from the site menu system and get an error "The requested URL /games/all/Recommended was not found on this server.".
Is that a site error or a wry comment on the state of N-Gage?
Ewan
Let me address the "it's rubbish" comment. Ducati Moto has some redeeming features, it has a full set of what you;d expect from teh game, and I know that some people will still love the grind of that. Yes it has graphical flaws, but you can see the game - and many people appreciate an on-rails racer. So it's not a total fail. I'd recommedn it with very very big reservations, so it scores above 50, but not by much.
sandy_1988
Quote:
the graphics ... [is] comparable with the likes of the Nintendo DS.
The game is ported from a Nintendo DS game of the same name.
Unregistered
It is a shame what potential Nokia wasted with N-Gage. Just look at some of the iPhone games today, they look very pretty and are fun to play. But Nokia had the same hardware as the iPhone (including 3G and iPod touch 1st and 2nd gen.) since the Nokia N93, and it was released in Mid 2006(!!!).

It is a shame that they did not create an environment that encouraged developers to push their efforts like Apple did with the App Store. Nokia had the market position, Nokia had the hardware, but they did not succeed with Symbian. I hope they have more luck with Maemo.
Unregistered
OMG Nokia is Very SUCK in game!! N95 with 3D Hardware Acceleration is useless because to few Symbian S60v3 Smartphone with 3D Hardware Acceleration that make developer not interest. Hope Nokia will fix it on Symbian Open Source Smartphone.
wampyre
I was hoping that you would take on other aspects of the game instead of just the arcade. It would be fun to see some info about the stunt challenge as this seems to be the only highlight of the game.

And I have to agree on the graphics, they are horrible and the bike almost "driving through the wall" is ridiculous.

I also don't like that in the game you can't crash into your opponents even if you try really hard. (You simply drive through them).
Neither can you purposely drive the wrong way. It resets itself to turn the biker the right way after 2 - 3 seconds if you drive the wrong way. (Very typical for all new games, but a feature I personally don't quite like).
jiegege
Collision Cat
This game is absolutely dreadful! Easily the worst N-Gage 2 game I've played, maybe even below Tomb Raider Underworld! Both that and this deserve far lower scores than they got. =P