The Big Roll In Paradise - free for a week
Published by Rafe Blandford at 17:47 UTC, June 28th 2010
Nokia's latest first party game title, The Big Roll in Paradise, is now available in Ovi Store. The title is based around games of bocce (similar to bowls and pétanque) played in a resort setting with multiple challenges, tournaments and collectible items. At first glance this might not catch your attention, but the game has been extremely well implemented and is surprisingly addictive. The game, which has been developed by Infinite Dreams, will be available for free until the 2nd of July, but after that it will cost €2. Read on for further details.
The Big Roll in Paradise has been developed by Infinite Dreams, best known for their critically acclaimed N-Gage game Creatures of the Deep. It runs on Nokia's S60 5th Edition devices (N97 mini, N97, 5530, 5230 and X6).
The Big Roll in Paradise was originally slated to be an N-Gage title, but with the close of the N-Gage system Nokia have opted to release the title through its Ovi Store service. The good thing about this is it will get a wider distribution and lower price point, but at the same time the title may not get the same recognition that it richly deserves.
Bocce may not seem like the most obvious subject for a mobile game, but its very simplicity means it is easy to play and the turn by turn style of play is well suited to a mobile device. It's easy to pick up the basics, but with a bit of practice you will find there's some subtle details to be mastered and appreciated.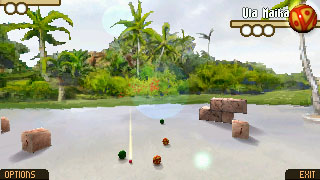 What really makes The Big Roll in Paradise stand out is its rich detail and story line. As with Creatures of the Deep there's a whole environment and 'world' for you to explore as you play games of bocce. In this case the 'world' is a caribbean resort where you'll meet a range of characters. There are numerous challenges and quests to play through with an XP points and inventory system keep track of your achievements as you go.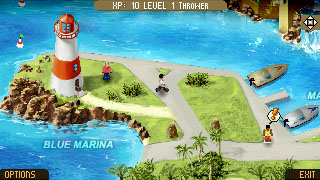 The Bog Roll in Paradise contains a number of mini-games built into the main game. These range from simple puzzles (as shown below) to more elaborate games (e.g. fruit machine and balance games in the casino). Some of these puzzles give additional clues to an underlying mystery that is unlocked as you play the game.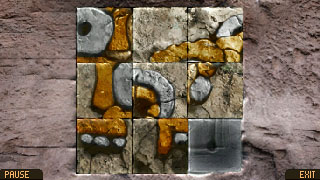 The Big Roll in Paradise is most assuredly a recommended download, it is one of the best games for S60 5th Edition released this year. It's a big game, weighing in at over 20 MB, so, where possible, we would suggest you download the game over a WiFi connection. We'll be taking a detailed look in a full review in due course.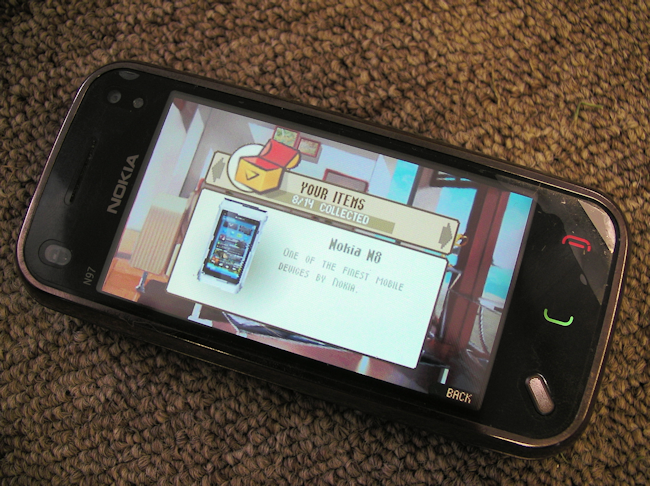 Thanks to Big Roll in Paradise you too can win a (virtual) Nokia N8 of your own.
Categories: Software, Games
Platforms: N-Gage, S60 5th Edition

News Discussion
kontraband
good game this... for free.. get it whilst you can
brendand
This is a really nice game - a few more like this and the N8 will be reasonably well kitted out for gaming. It's still a weak point, but the situation is only improving.
malerocks
21 MB is a huge download. Will download it at my house over the wifi. If the game is good, the size i guess is worth it.

I thought infinite had stopped development of Symbian games. Been a long time since saw any title from them come the Symbian way. Usually love their games :)
InZain
Err it works on the 5800 too! Not sure why you didn't include that model on the list of compatible devices.
kontraband
Its just an example list of 5th Ed devices... not conclusive ;)
Unregistered
It is not available on my 5800 v50,downloaded it to my gf's n97 mini,takes ages to install but well worth it. On a different subject,does anybody know what happened to the bounce 'tennis' type doubles games that was announced some time back? ? Thanks.
Unregistered
how cum nokia or idreams is holding this game back for the 5800! it's not even available for the 5800 on ovi store. it works on my pal's 5800, but downloaded it from another site. what gives?!
Unregistered
And there's even a good typo in the article: "Bog Roll in Paradise"...
lovesign
Great game, just a shame it's available for every 5th Ed. phone bar the 5800!! My missus is very upset that she can't have this :(

;)
kontraband
Lovesign, just sent you a tweet that may help.
brendand
Yeah - not on the Ovi Store for the 5800!! Nokia need to cut this kind of thing out - how can it be available for the 5530/5230 but not the 5800?
Unregistered
I have this game on the 5800, and i can confirm it looks and runs superb with full touch support.

Just go to the Ovi store, via your PC, and change your phone to the N97, that should work.