N-Gage + TV Out = Home Games Console?
Published by Tzer2 at 21:57 UTC, July 30th 2008
Many N-Gage-compatible phones have a thing called "TV Out", which lets you attach them to an ordinary television set with a simple cable. Once connected, you can access any of the phone's functions through the TV set, including N-Gage games. In a specially-made video and editorial, All About N-Gage takes a look at the TV Out feature and wonders if N-Gage has a future as a home gaming platform as well as a mobile one.
TV Out on the new N-Gage platform






Just what is TV Out, and why is it so important?
In 2006 Nokia released the N93 smartphone, which included a very special feature: the ability to connect it to a television set through something called "TV Out". It was very simple to use, you just plugged one end of the TV Out cable into the phone, and the other end into a TV, and the phone's screen appeared on the television screen.
Many of their later phones have had TV Out too, including the N95, N82, 6220 Classic and others. However, Nokia has always promoted it mainly as a way of viewing photos and videos, and many people don't realise the feature can actually be used with all the phone's other functions too.
Last year our sister-site All About Symbian ran a series of articles arguing that TV Out combined with a wireless Bluetooth keyboard effectively turned the N95 and other TV Out models into home computers, and you can read the first article in the series by clicking here. If you're having problems getting TV Out to work, scroll to the middle of the article as there's a complete guide to setting it up.
Now that N-Gage has arrived, does TV Out make these phones home consoles as well?
Some games work better than others
With some games the answer to the above question is definitely yes, you can indeed use a TV Out-compatible N-Gage phone as a home gaming system. System Rush Evolution, FIFA08, Mile High Pinball, Space Impact Kappa Base, Snakes and others work well and are playable on a TV set, and although they aren't as good as real home console games they are arguably good enough for most people's needs. They're also definitely good enough for anyone who doesn't have access to a home console for whatever reason.
This writer would like to pay particular tribute to System Rush Evolution, which looks surprisingly stunning on a television set, even without 3D chip support. Well done to Ideaworks3D for yet again going far beyond the call of duty, by putting so much effort into the graphics that they still look good even when enlarged to fit a TV screen.
However, some games on N-Gage clearly aren't up to scratch through TV Out, for example Sims 2 Pets and Creatures Of The Deep. The problems are largely because these games were never intended for a large screen, and some 3D textures may look okay a phone's 2 inch display but are extremely tatty on a television's 20+ inch screen.
Generally 2D games work fine on a television, and some of the 3D games work very well too (especially System Rush Evolution which looks great), but others look absolutely ghastly. If you're unsure about a particular game, try the free demo with TV Out and see what you think.
What about the controls?
There's more to a home gaming system than screen size of course, there's also the question of controllers. The N95 (as used in the video above) works quite well as a gamepad, the TV Out cable comes out of the left side so you hold it horizontally just like a console controller, with the d-pad on the left and the gaming buttons on the right.
However, there is a wireless alternative: Bluetooth keyboards. All N-Gage-compatible phones are also compatible with Bluetooth keyboards, and they can be used to control all the functions of the phone including games. If you connect a BT keyboard to an N-Gage phone, you can use it as a wireless controller.
Of course a keyboard isn't necessarily an ideal size or shape for gaming, so it would be nice to see someone (either Nokia or a third party) make a Bluetooth joypad. It wouldn't require ANY extra software or SDKs or anything like that, all that the manufacturer would have to do is put the insides of a Bluetooth keyboard into a joypad-shaped casing. To keep the buttons a decent size, all the letter and editing keys could be left out, all that phone games need is the d-pad, soft keys and numbers.
We've suggested this before on AAN and over on AAS too, but the only response that appeared on Nokia's developer site grumbled about needing to make a new SDK. You really don't need to guys! The existing Bluetooth keyboard drivers and hardware already let you control all phone games, just take a look at the video above for proof. All we really need is the same basic keyboard hardware but in a different casing.
In fact in last year's All About Symbian article we even came up with a slightly tongue-in-cheek mockup of how such a controller might look: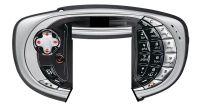 3D graphics hardware - the way to make N-Gage a home games console?
The subject of 3D graphics chips has come up quite a lot in the N-Gage world recently, and TV Out makes the discussion even more relevant.
N-Gage games generally work well on TV Out, but they're being held back by pixellated textures on some 3D titles. If developers could use 3D graphics hardware on N-Gage, that would allow the textures to be much smoother and less pixellated, and so much more suited to television sets.
In other words, 3D chips might not just make N-Gage look better on the phone itself, they could totally redefine the way we think about N-Gage as a platform. Far more people own mobile phones than games consoles, so there's a potential for phones to take over from games consoles as the main home gaming platform.
Share This (Digg, del.icio.us, Email)
Categories: Comment, Hardware
Platforms: N-Gage