Let's See More Games in the N-Gage Client
Published by Ewan Spence at 20:18 UTC, November 9th 2008
Ewan Spence argues that N-Gage should be opened up to more than just native C++, hand-rolled N-Gage games.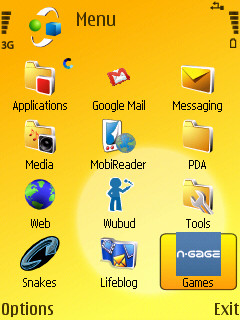 One of the criticisms of N-Gage titles in the past has been that they are simply ports or rehashes of existing titles; offering little extra over the original experience provided by the programmer. It's something that we here at "All About..." have picked up when reviewing titles (notably Gameloft's Brain Challenge and Digital Chocolate's Cafe Solitaire), and it's mentioned heavily on various N-Gage forums. It's seen as a bad thing, something that brings the N-Gage system down in people's estimation.
I'm going to disagree with that. I think that game developers porting 'generic' mobile games into the N-Gage platform is a really good idea, and I want to see more of it, not less.
I've been playing the N-Gage version of Cafe Solitaire now for the last week on the N-Gage, partly because I had finally finished Astraware's Solitaire, but also because it looks like it will be the first N-Gage game where I get the maximum 1000 Pickup Points for the N-Gage Arena. But I digress. One of the things that makes it interesting is that the Cafes you create, and your avatar, are transportable around all of Digital Chocolates Cafe titles (which include Poker, Sudoku and Mahjong), as well as having the game contribute to your N-Gage Arena score.
Is it a problem that it doesn't tie in 100% with the idea of N-Gage Arena? Taking a step back from the pure gameplay, and looking at the gaming market, I don't think so. It's already been re-coded to take advantage of the N-Gage platform, and there are more Cafe titles due from Digital Chocolate on N-Gage...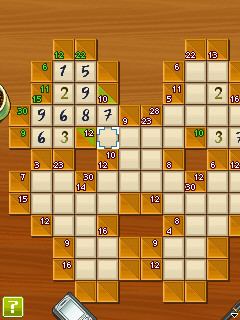 ...but what's interesting to me is that Cafe Sudoku is already available, direct from Digital Chocolate, along with my new found favourite, Cafe Kakuro (left). So just how long does Nokia need to clear something for the N-Gage platform? It can't take that long to add in what you have to assume is pretty boilerplate code to talk to the Arena servers and work out where the 1000 points per game will be available from.
It's not as if Nokia would be unwilling to work with titles that are available over multiple platforms. The recent release of Star Wars, Power of the Force illustrates that. The Lucasfilm title went out not just on the N-Gage, but also on Apple's iPhone, the Sony PSP and most of the TV based home consoles.
So if Nokia don't appear to have problems with a title that is appearing on other platforms, or even a title available from a second (non-Finnish) source, where are the games?
There are countless java games for mobiles out there, and the majority of them will not be great gaming experiences on our S60 devices, but even if only a small percentage of the total number of java mobile games pass some sort of quality threshold in the N-Gage team, why aren't they being pushed out over the client?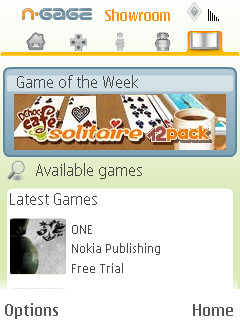 Digital Chocolate have 13 Cafe games, including Solitaire. At a rate of one every two weeks, as near as makes no difference, half a year's worth of content for the next generation N-Gage platform. And that's just one sub brand by one company making mobile games. Once you start looking even the slightest bit further afield you find a good number of boutique developers in the UK alone. The already mentioned Astraware are one. How about Crystal Dynamics or Tag Games? Before I start to do some serious hunting there are names with strong titles ready to run on S60 which are on a par with existing N-Gage titles.
Why are they not there?
Well you could argue that Nokia don't want to damage or dilute the N-Gage brand, to in some way keep it exclusive. But there must be a balance here between having some cachet on appearing on the platform, and not having a platform at all. Next generation N-Gage currently has 21 titles. It launched in public some eleven months ago (beta or no beta label, it launched). Let me repeat that... 21 titles. Come on. That number is ridiculously low for a gaming platform. At the launch of the Sony PSP, that platform had 34 titles read for purchase. A gaming platform, put simply, needs games.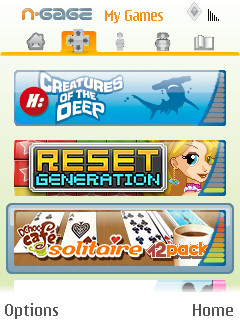 If the dilution of the brand is so critical, then all Nokia need to do is release a new N-Gage client with a new option added to the 'Showroom' tab. It currently has Game of the Week, Available Games and Latest Games. Pop in an 'N-Gage Recommends...' option there, and showcase some of the best Java games that will run well under S60. The companies would need to do minimal branding additions to be added in here, and Nokia could have a steady supply of (approved) gaming titles for N-Gage fans, whilst still retaining quality control and exclusivity on 'Designed For N-Gage' major titles.
One of the biggest positive discussion points on the iPhone has been the iPhone Application Store. Nokia's equivalent Download store also generates a lot of discussion (but as we can see here, not for the right reasons). While it cannot (immediately) be used across the entire S60 range of devices, there should be no reason for the N-Gage Client to not open up to include the growing catalogue of impressive mobile games from third party developers. It helps those developers by providing another route to market, it helps Nokia and N-Gage with more content in the system, and most of all it helps gamers appreciate that good games come with N-Gage.
-- Ewan Spence, Nov 2009.
Share This (Digg, del.icio.us, Email)
Categories: Comment
Platforms: N-Gage